Our History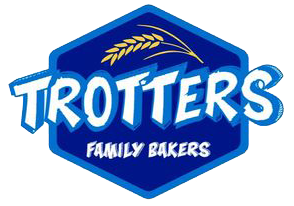 Trotters Family Bakers
---
Trotters Family Bakers is a third generation family run bakery based in Seahouses Northumberland, currently being headed up by 3 rd generation baker Nathan Trotter.

With baking being in the family – some of our recipes originate from Graemes Granny Trotter with one in particular "Granny Trotters Fruit Cake" being a firm favourite of Graeme who oved to tell anyone and everyone the story of how Granny Trotter made this exquisite fruit cake from her family home in the small village of Bowsden.

John originally purchased Belford home bakery following his experience of working in the bakery trade. From there John moved the business to Baxter Avenue, Fenham then finally relocating to the the current location in Seahouses, and from there with his son second generation baker Graeme Trotter built up a loyal customer base over several fruitful years.

Graeme took to baking and business like a duck to water initially studying a bakery and confectionary course at college. And then going on to teach for 2 years in the art of cake decoration all the whilst keeping a keen eye on progressing his bakery.
Setbacks – Along the way
Graeme was dealt a blow in 2000 with the passing of his father John.
However from the strong foundations left by John the real growth came from second generation baker Graeme Trotter (Nathans late Father) in the early 2000s more than tripling the customer base.

In March 2019 the family were dealt a second untimely death before their time with the passing of Graeme, however like his father before him Graeme left his son a set of strong foundations to continue to move the company forward to where we are today.
Milestones
In 2019 the bakery celebrated its 50 year of trading which was somewhat bittersweet without being able to share with my Father and Grandfather who put so much time and effort into the business.
Special Thanks
I would like to say a big thank you to all those including the many loyal staff who have made Trotters Family Bakers what it is today.
Finally without our loyal customer base we would not be in business, so to customers past, present and future I hope you enjoy the products we produce and long may that continue.

Regards,

Nathan Graeme Trotter